Polytetrafluoroethylene (PTFE) is a synthetic fluoropolymer of tetrafluoroethylene that has widely applications. The major brand name of PTFE is DuPont Teflon. PTFE is hydrophobic because of its high electronegativity of fluorine. At the same time, PTFE has one of the lowest coefficients of friction against any solid. PTFE has excellent dielectric properties, making it as an excellent insulator in cables and connector assemblies. The advantage by mixing PTFE with elastomers is to keep the seal from creeping too much, PTFE also improve wear resistance and reduce friction. PTFE is also well-known by its application as a non-stick coating for cookware.
PTFE micropowders are low molecular weight; micronized white particle and the particle size are around 3-20 um in diameter. They are additives in polymers, inks, or paintings which offer the great abilities to against friction, chemical resistance and the role as an insulator. Fluorez Technology offers our PTFE micropowders to meet numerous application of our customers. Details of our PTFE micropowders can be found in our "product"page.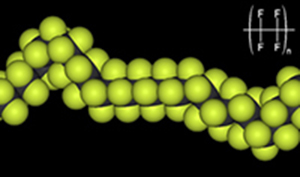 Additive to thermoplastics, thermoset plastics, and elastomers
Being added in PC, POM, PA, PPS, ABS, PS, HIPS, PP, thermoset plastics and elastomers ( EPR, silicone rubber, SBR etc.), it can obviously reduce the attrition to the sliding parts, and the friction coefficient of the base substance.
Recommended usage: 5~25.0 % (by wt.)
Additive to printer's inks
It's an ideal additive and modifier to various kinds of printer's inks that achieves anti-sticking, less abrasion, improved definition and luster of the prints, durability against fading, good water-proof and moth-eaten proof, etc.. Its application in hectograph / gravure inks improves slippery performance, surface smoothness, luster and abrasion resistance that facilitates high-speed printing.
Recommended usage: 0.1 ~ 3.0 % (by wt.)
Additive of paints
It can be mixed with paints used in spray coating of industrial quipment, household goods, or used in anti-corrosion paints, special waterproof paints, and coating of wound metal strips providing benefits of anti-stickiness, flexibility, heat conductivity, durability and toner resistance etc.
Additive of anti-sticky and wear-resisting varnish
To improve the varnish's properties of anti-sticky, lubricating, anti-corrosion, moisture-proof and wear resistance, also reduce its friction coefficient.
As an solid lubricant
1. Being added into rubbers and plastics, it can not only avoid sticky-sliding during processing, but also give the base materials with excellent properties of PTFE. It's also a quite effective mould-release agent for rubbers and plastics when the powder being mixed in at 0.25% by wt.
2. Used as a lubricant for gearing system in the circumstances that requires oil-free lubrication, such as high-speed engines, gearing system, and kneading machine, etc.
3. Added in oils, lubricating oils and rubber sealant to significantly improve their load-bearing capability, vacuum resistance, low temperature resistance and wear resistance.
Anti-sticky and wear-resistant spray
A spray could be made by mixing it with methane and butane to make the sprayed base substances with improved adhesion resistance and wear resistance.
Additive to dry battery
Used in dry battery to substitute PTFE dispersion. It can elongate the life of the battery, simplify the production technic and lowdown the cost.