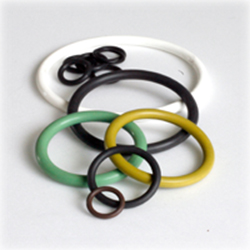 Fluoro-elastomers, FKM (FPM by ISO) is the designation for about 80% of fluoroelastomers as defined in ASTM D1418. Other fluorinated elastomers are perfluoro-elastomers (FFKM) and tetrafluoro ethylene/propylene rubbers (FEPM). All FKMs contain vinylidene fluoride as a monomer. Originally developed by DuPont® (Viton®), FKMs are today also produced by Daikin® Chemical (Dai-El®), 3M®'s Dyneon® (Dyneon® Fluoroelastomers) and Solvay-Solexis® (Tecnoflon®). FKMs can be divided into different classes on the basis of their chemical composition, fluorine content or crosslinking mechanism.
Generally speaking, FKM parts contains 66% fluorine, however, it is not always the case. Nowadays, there are several FKM compounding ingredients offer higher fluorinate content to 67-70%. These high fluorinate FKMs extends their working hour in solvent or high temperature. With certain compounding technology, FKMs can also survive under 280 °C and constantly working at 250 °C without problem. The drawback is its pricy cost than conventional FKM due to specialized ingredients, however, it is still very economic than FFKM.
Femrex™ technology has our own compounding factory and laboratory, which offers customized ingredients in order to satisfy each customer's unique need. Femrex™ is our FKM product line which includes compounds and parts, we also offer Femrex Plus™ series to satisfy our customers who need a FKM to work with a specialized environment but want to keep away from FFKM's pricy.